Model IHV24XT: 3.0KV Opto/Xformer Isolated Async RS232 to RS485 fast automatic converter with switching regulator (9-35VDC operation), transient protection, -40C to +85C operating temperature range, INTELLIGENT DETECTION and DISPLAY of INTERNAL and/or EXTERNAL ERROR CONDITIONS. This unit replaces the IRSFC24T and IRSFC24XT units (Schematics for all units are below).
---
• Fast auto TX-enable RS232 to RS485 interface converter for 2-wire, half-duplex communications, in point-to-point or multi-drop communications networks, at distances up to 4000 ft. and data rates up to 115.2Kbps.
• Galvanic (Opto/Xformer) Isolation helps eliminate noise, and protects equipment from destructive transients found in industrial applications.
GENERAL DESCRIPTION and TYPICAL APPLICATIONS:
The IHV24XT is a fast Async bi-directional RS232 to RS485 INTELLIGENT interface converter for 2-wire, half-duplex applications, with an automatic TX enable circuit, that will operate at data rates up to 115.2Kbps. The unit has jumpers for bias, termination, RS232 DTE/DCE selection, and operating mode settings. The unit has five LED indicators, a removavle RS485 screw terminal strip, one RJ11/12 RS232 connector, and uses a limited slew rate transceivers. Galvanic isolation between the RS232 and RS485 helps to eliminate a wide variety of problems encountered in industrial and/or real world applications.
The IHV24XT is designed for office and/or industrial applications, and provides superior characteristics/features normally found only on more expensive units. The IHV24XT can be used in outdoor applications; however, many factors can affect reliable operations. Please call for additional information and/or peruse our Fiber Optic product line (compatible with our "copper" converters).
---
Click image for full-size photograph:
---
PHYSICAL PROPERTIES and FEATURES:
| | |
| --- | --- |
| RS232: | 3-wire interface to RJ11/12 Connector (TX, RX, Common). |
| RS485: | Removable screw terminal (Common, TX/RX-, TX/RX+). |
| Power: | 2.1mm center positive "Barrel" connector (9-35VDC) and terminals. |
| LEDs | TX-RS232(RED1), RX-RS232(GRN1), TX-RS485(RED2), RX485(GRN2), Fault/Power(YEL). |
| Bias: | 620 Ohm pull-up and pull-down (jumper selectable). |
| Termination: | 120 Ohms (jumper selectable). |
| Special: | INTELLIGENT DETECTION OF ERROR CONDITIONS or Standard Operation |
| Protection: | P6KE6.8A Transient Voltage Suppressors inside 1N4004 diode bridge circuit, auto-reset communications fuses on RS485 TX/RX data lines, 3000VDC, 1 sec. Galvanic isolation. (1500VDC, 1 sec. for IRSFC24T and IRSFC24XT units) |
SPECIFICATIONS:
| | |
| --- | --- |
| Distance: | RS485 up to 4000 ft. (1250 meters). |
| Operation: | 2-wire, half-duplex RS485. |
| Format: | Asynchronous data with any combination of bits, parity, stop |
| Speed: | Up to 115.2Kbps (slew limited driver) |
| Temperarure: | -40C to +85C(-40F to 185F) operating ambient. |
| Humidity: | 10-90% non-condensing. |
| Voltage: | 9-35VDC |
| Power: | Under 3/4 Watt (typical) + external load. |
| Size: | 3.50" X 3.00" X 0.9" (PC Board), with connectors: 3.50" X 3.25" |
| Mounting: | 4-Holes 3.00" X 2.25" (built-in standoffs for #6 hardware) |
OPTIONS AND ORDERING INFORMATION: (MODEL IRSFC24)
| | |
| --- | --- |
| IHV24XT: | $114.00 ea. (Circuit board only). |
| Enclosure: | $10.00 ea. (Medium) |
| Cable: | $7.50 ea. (RS232, 7 ft., specify DB9F-7 or DB25F-7) |
| Supply: | $8.50 ea. (12VDC @ 200/300 mA wall power supply) |
*IHV24XT with all options (DB9F cable): IHV24XT-B9FPS @ $140.00 ea. (Qty. 1-9)
---
Please call us at: 513-874-4796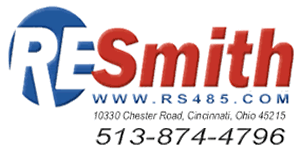 Contact Information:
R.E. Smith 10330 Chester Rd., Cincinnati, Ohio 45215
Phone: 513-874-4796
Fax: 513-874-1236